Weather & Climate of Maldives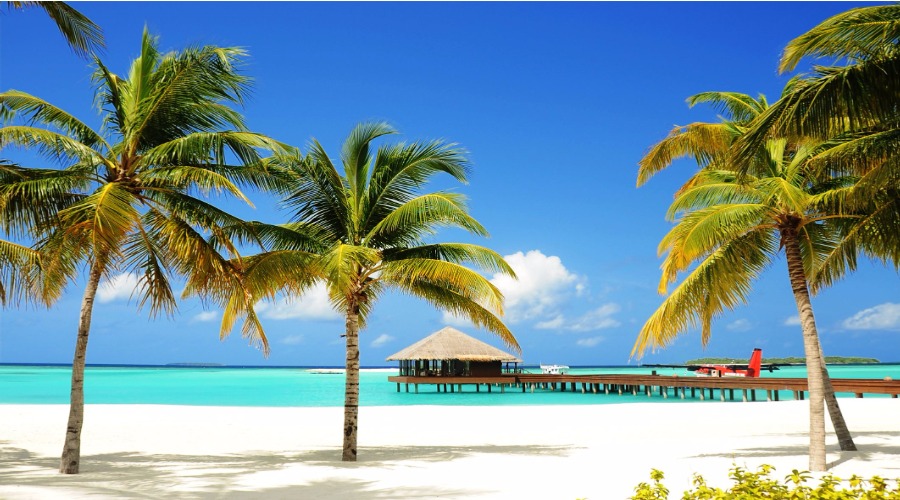 Maldives, the sunny side of life is blessed with magical and breathtaking displays of sunshine for the better part of a year. Similar to tropical countries, the Maldives enjoys a dry and wet season. Conveniently, the hot and humid weather is complemented with cooling sea breezes and periodic rain.
The dry season or the Northeast Monsoon locally known as "Iruvai" continues from January to March. While the wet season or the Southwest Monsoon locally known as "Hulhangu" progress from Mid-May to November. Traditionally the natives used a calendar called "nakaiy" to identify weather developments.
Amidst the two seasons, there is little or no change in the temperature. This makes every season the best season to visit the Maldives. Likewise packing for a holiday in the Maldives is undemanding due to the uniform weather forecasts.
On average the daily temperature may fluctuate from 31 °C during the day to 23 °C in the night. The highest temperature ever recorded in the Maldives was 36.8 °C. Whereas the lowest temperature ever recorded in the Maldives was 17.2 °C.
The dry season is the season for admirers and enthusiasts of the sun. Throughout the dry season you are assured of beautiful and bright sunshine. Accordingly the seas are serene with clear blue skies. There is only sporadic rain during this season. Hence, this is the ultimate season for sunbathing, sunset watching and scuba diving.
The wet season showers torrential rain to the Maldives. Occasional thunderstorms and strong winds are the norm of this season. Consequently large waves and swells are generated in the ocean. As a result, the wet season is the most favorable occasion for surfers to showcase their flair in the great surf spots of the country. Nevertheless, the sun announces its presence on interludes, even during the wet season by bursting forth from the cloudy skies, dispensing rays of bright sunshine.